I have always adored the story of Alice in Wonderland in fact its my all time favorite story! I always wanted to live in that picturesque world of imagination as it is that. If you happen to have ever read this beautiful story as it is told by Lewis Carroll Titled Alice's Adventures In Wonderland.
And the Sequel Through the Looking-Glass And What Alice Found There
You would completely agree....
As some of you know I turned 30 this year! And the fluke of it was The new Tim Burton Directed Alice in Wonderland
Premiered in theaters on my birthday!
yes the same year I turned 30!
Of course I went and saw it!
but I wont spoil it if you haven't seen it yet!
But I will say this movie Spoke to me and left me in tears at the end with someone pointing out that this movie was made for you!
I connected to this story more then I have with anything else! If you have ever read the
Lewis
Carroll books you would know its about a
child's
imagination and there ability to explore! but the underlying message is to follow your dreams and your heart!
As the Poem says in the end of Through the looking Glass
A boat, beneath a sunny sky
L

ingering

onward dreamily
In an evening of July -

C

hildren

three that nestle near,
E

ager

eye and willing ear,
Pleased a simple tale to hear -

L

ong

has paled that sunny sky:
E

choes

fade and memories die:
A

utumn

frosts have slain July.

Still she haunts me,

phantomwise

,
Alice moving under skies
Never seen by waking eyes.

C

hildren

yet, the tale to hear,
E

ager

eye and willing ear,
L

ovingly

shall nestle near.

In a Wonderland they lie,
Dreaming as the days go by,
Dreaming as the summers die:

E

ver

drifting down the stream -
L

ingering

in the golden gleam -
L

ife

, what is it but a dream?
And after that day my life did change. Where will it take me?
Child of the pure unclouded brow
Child of the pure unclouded brow
And dreaming eyes of wonder!
Though time be fleet, and I and thou
Are half a life asunder,
Thy loving smile will surely hail
The love-gift of a fairy tale.

I have not seen thy sunny face,
Nor heard thy silver laughter;


No

thought of me shall find a place
In thy young life's hereafter -
Enough that now thou wilt not fail
To listen to my fairy-tale.

A tale begun in other days,
When summer suns were glowing -
A simple chime,

that

served to time
The rhythm of our rowing -
Whose echoes live in memory yet,
Though envious years would say "forget".

Come hearken then, ere voice of dread,
With bitter tidings laden,
Shall summon to unwelcome bed
A melancholy maiden!
We are but older children, dear,
Who fret to find our bed time near.

Without, the frost, the

blinding

snow,
The storm-wind's moody madness -
Within, the firelight's ruddy glow,
And childhood's nest of gladness.
The magic worlds shall hold thee fast:
Thou shalt not heed the raving blast.

And though the shadow of a sigh
May tremble through the story,
For "happy summer days" gone by,
And

vanish'd

summer glory -
It shall not touch with breath of bale
The

pleasence

of our fairy-tale.
-Lewis Carroll, Through the looking glass
Some Alice in Wonderland Inspired things.....
Urban Decay put out a Alice in Wonderland inspired eyeshadow pallet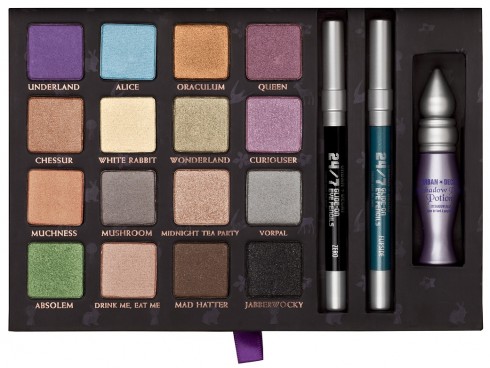 I really enjoy the Mushroom, Midnight Tea Party, Mad Hatter, Drink me Eat me,
Vorpal
, Muchness, Wonderland, Pretty much almost all of the colors......
Now On to The Jewels....
I came across this during a recent search
designed a jewelry line based around Alice in wonderland
Drink me Ring
Freshwater Pearls, Plastic
LOVE LOVE LOVE this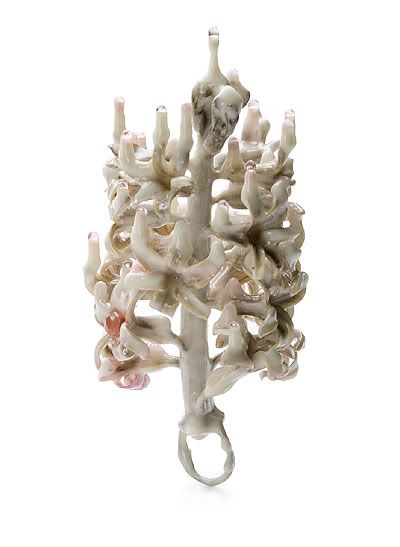 Hyacinth ring 925 Silver, Plastic, Strawberry Quartz
All of her work is custom and is considered non functional contemporary art!
she is based out of

Denmark

.
on to the next............
So as

some

may know Disney has a couture line of Jewelry out.....
A Jewelry Designer by the name Of Tom

Binns

released a line of jewels to co-inside with the release date of

Alice

in Wonderland.....
his designers are breath taking!!!
Long Key Hole Necklace
Key Hole Earrings
Through the Key Hole Ring
Keys and Keyhole Necklace
All Hearts Necklace
All Hearts Earrings
And....
My Favorite Smashing time Necklace.....
and Q-pot also designed some things for disney
Unfortunetly there online shop I believe it is in japanese
so not available for purchase in the U.S
But! none the less I found that they are DEF. worth sharing
Hair Ribbon Ring
Eat me Necklace
Mad Hatter Tea Cup and Charms
Tea Cup Necklace(love this)
Spilled Pot (loves these As well)
Happy UnBirthday
Well thats all folks I cant believe I stayed up this late typing this all out but its about time!
Enjoy!